Leadership team
An ensemble of experienced professionals leads the employees who make up Larus Technologies. They are inspiring role models to their employees; and visionary pioneers, creative thinkers and trusted advisors to their Defense Contractor customers.
---
George Di Nardo, President
George Di Nardo is the President of Larus Technologies Corporation. He is responsible for the overall management of Larus and works with the Leadership Team to establish and drive the vision and strategic direction for the company. George has also been responsible for leading the software engineering and product development projects since founding the company in 1995.
George has over 25 years of experience in software engineering and development focused primarily in the space, defense and security markets. He combines the ability to develop comprehensive scientific and engineering solutions with a solid understanding of the software development life cycle.
He has been involved in the development of several real-time and embedded software and engineering applications for various clients including the DRDC-Ottawa, Canadian Space Agency, Communications Research Centre and Terra Aerospace Corporation. George was also the chief architect for the AESA software, currently under license from Inmarsat PLC.
George was the senior project engineer at DRDC-Ottawa, leading a software team in developing and maintaining the DRDC SIMLAB simulation software, the CROWE exploitation software system and providing supporting to the NATO CAESAR and MAJIIC projects.
A respected industry authority, George continues to provide expertise and leadership in the defense and military sector through his participation as a member of the NATO MAJIIC Technical Working Group and is a Canadian member of the Custodial Support Team (CST) for STANAG 4545, 4559 and 4607. George is a leading expert in the use and implementation of STANAG 4607, the Ground Moving Target Indicator Format.
---
Dr. Rami Abielmona, Vice President of Research & Engineering
Dr. Rami Abielmona is the Vice President of Research & Engineering at Larus Technologies Corporation. He is responsible for all research and development of software, hardware and products, as well as the management and direction of the research team.
Rami joined Larus in 2007 to lead the integration of software engineering corporate knowledge with research in sensor networking, multi-sensor data fusion and computationally intelligent processing architectures, resulting in the innovative Larus Total::Insight™ product, which is a high level information fusion engine (HLIFE).
Rami received his B.A.Sc., M.A.Sc. and Ph.D. degrees in computer and electrical engineering, from the School of Information Technology and Engineering at the University of Ottawa, where he currently serves as an Adjunct Professor. He was a CMC Success Story in 2005 for his Ph.D. research. He received the NSERC Industrial Research and Development Fellowship (IR&DF) in 2007 and the IEEE MGA Achievement Award in 2008. He was also named as the Part-Time Professor of the Year at both the Faculty of Engineering and the entire University of Ottawa in 2012. He also became a licensed Professional Engineer in Ontario in 2008, as well as a Senior Member of the IEEE in 2011.
Rami has served on numerous Organizing and Program Committees for international conferences including most recently as General Chair of the Fifth IEEE Symposium on Computational Intelligence for Security and Defence Applications (CISDA) in 2012. He has also served as a Technical Program Committee member for conferences such as I2MTC 2012, CIMSA 2012, MeMeA 2012, ROSE 2011, IJCNN 2011 and evoRISK 2012. He is also a co-founder of the Canadian Tracking and Fusion Group (CTFG).
Rami is a 2011 Ottawa Business Journal Forty Under 40 Award recipient. He is currently the Chair of the IEEE Ottawa Section, the Web Manager of the IEEE Computational Intelligence Society, the Chair of the IEEE Computational Intelligence Society Security, Surveillance and Defense Applications Task Force and the Chair of the local IEEE Computer Society chapter.
---
Gail Di Cintio, Vice President of Operations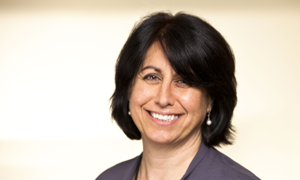 Gail Di Cintio is Vice President of Operations at Larus Technologies Corporation. She is responsible for finance and human resources.
Gail is an established executive with over 25 years of experience including, VP Human Resource Development at Fujitsu, with global responsibilities and as a Management and Technology consultant with Fujitsu and Deloitte Consulting.
Gail has been involved in a number of not for profit and corporate boards, including; Alterna Savings and Alterna Bank, The Ottawa Hospital, Ottawa YWCA Women of Distinction Award. She is currently on the board of the Elisabeth Bruyere Research Institute and the Deposit Insurance Corporation of Ontario.
---
You may also be interested in: