Larus Technologies Awarded DIRP Contract With Defence R & D Canada
OTTAWA, ON, June 15, 2012 – Larus Technologies is pleased to announce that it has been awarded a contract with Defence R&D Canada through the Defence Industrial Research Program (DIRP) to apply intelligence schemes to improve maritime domain awareness (MDA), by integrating RADARSAT-2, AIS and other disparate data sources using high-level information fusion (HLIF).
The Government of Canada (GoC) and Canadian Forces (CF) are interested in the protection of Canadian land through the surveillance of areas of interest, and in the public safety of their citizens, including areas related to international borders and public transportation. "This contract will develop and produce multi-source HLIF software that will provide a novel solution to the problem faced in National Maritime Territorial Security dealing with the detection of abnormal behaviors in areas of strategic national importance,"said Dr. Rami Abielmona, Vice President of Research and Engineering at Larus Technologies. "Larus will concentrate on the challenges present in applying HLIF concepts to MDA."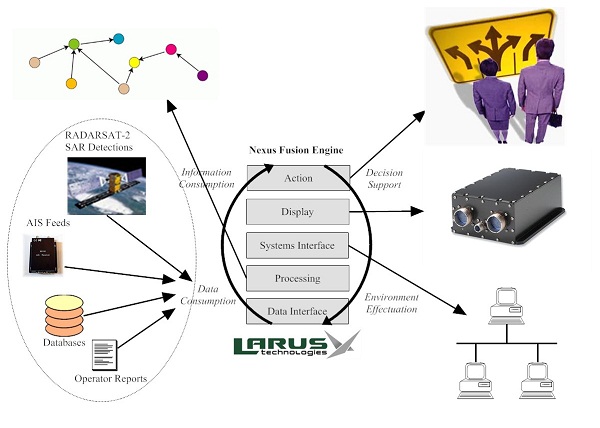 Nexus Fusion Engine Applied to Maritime Domain Awareness
The expected product is a real-time maritime surveillance solution integrated within Larus' Nexus Fusion Engine.The latter runs a closed-loop decision-support system (DSS) that takes in the data source inputs, extracts the required information from their raw data streams and, according to the user's decision, proceeds to perform a plan of action through effectuation of the environment. As the latter has now changed, the data consumption phase starts another run through the DSS loop. It currently exhibits the following features: motion detection, intrusion detection, fire detection, object localization, object tracking and object classification. Furthermore, the raw data are mined for patterns that represent information, with the set of patterns representing the knowledge attained by the system.This combination of data mining and fusion alleviates the strain on the human operator by reducing the influx of information to a manageable level.
This contract will fill a need by reducing the cost of tasks that are currently performed by humans. Typically, human efforts are extensively spent to review large numbers of datasets and manually compare these with the ones taken on previous occasions. The developed system will increase the efficiency of human operators, and effectively disseminate information to the proper authorities and downstream systems, within a MDA context.
This real-time maritime surveillance solution holds a major competitive advantage over other HLIF methodologies, in making use of advanced behavioral learning and predictive modeling technologies. Existing products are often limited to the application of pre-coded logic (e.g. decision rules) which requires a fully re-engineered solution when the problem premises change. Other advantages of the situated and embodied DSS, compared to alternative approaches, include faster and more accurate event assessments and real-world actions.
About Larus Technologies
Larus Technologies Corporation is an Ottawa-based company with specialties in Intelligence, Surveillance, Reconnaissance (ISR) that delivers innovative data fusion and sensor networking solutions for the Territorial Security and Defence sectors. Larus has three core business areas, Sensor Networking Solutions, including the LISA Networking products and the Nexus Fusion Engine, Software Engineering Consulting, primarily in the public safety and defense sectors, and Research and Engineering, focusing on innovations in computational intelligence. More information about the company is available at: www.larus.com.