Maritime Domain Awareness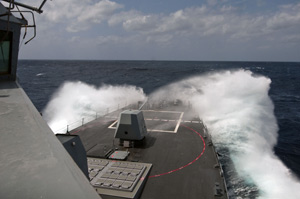 With over 90% of the world's trade carried by sea, it is more critical than ever to secure maritime operations to ensure the uninterrupted low of raw materials and finished goods, as well as oil and gas supplies worldwide. The major challenge facing Maritime Domain Awareness today is how to deal with the saturation of information associated with monitoring thousands of vessels which travel by sea each day.
Using computational intelligence, advanced learning techniques, prediction and high level information fusion capabilities, Total::Insight combines and analyzes the information from a variety of sources including passive and active sensors, existing L0/L1 trackers and correlators, as well as from a multitude of other data sources (e.g. AIS, SAR,LRIT, weather reports, operator reports, web pages). This allows Total::Insight to sift through vast amounts of data, capture complex relations which result in the learning and the real-time recognition of patterns, events and anomalies in order to always produce the most accurate information possible and to continually optimize situational awareness for decision makers.
We recommend that you visit our products and services.