Dr. Rami Abielmona discusses AI/ML-based Big Data Analytics to the Machine Learning & Artificial Intelligence Ottawa Meetup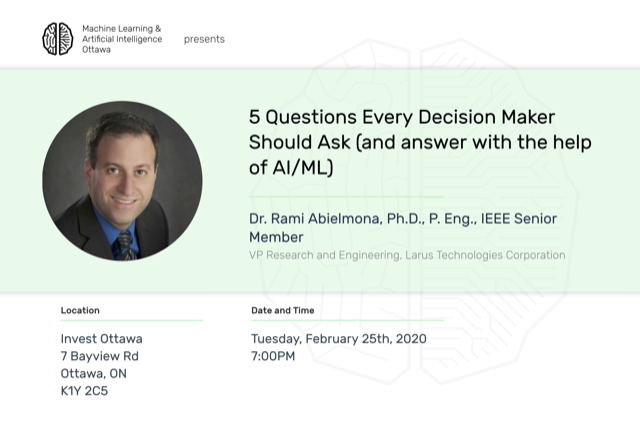 Dr. Rami Abielmona, VP Research and Engineering of Larus Technologies, presents the 5 Questions Every Decision Maker Should Ask (and answer with the help of AI/ML) at the ML and AI Ottawa Meetup, a group of individuals that regularly meet to discuss a variety of topics and methods for teaching machines how to think and improve.society, which is to be held on February 25, 2020 at Invest Ottawa at 7 Bayview Rd. Come learn about innovative topics such as anomaly detection, trajectory prediction, sensor cross-cueing and tasking, automated data collection scheduling and planning as well as automated response generation. Check out the details of the event!
Follow the ML-AI Ottawa Meetup as it strives to put on the best AI/ML events possible in an inclusive and welcoming environment.